Photo Gallery

Ray, Hazel, Nancy, Ron, Joyce, Les and Doreen get caught by the "Paparazzi" at the Valentine's Dinner on February 6th, 2010.

Perhaps Betty, in the background, is thinking of rejoining choir.



... and yes, just as Anna promised here are the two winners of the Valentine's ABC game posted on St. Peter's website...."The Saints" and "The Saintly Hearts".

Don't be so surprised Jeanne!



St. Peter's Sunday School prepare for the 2009 Children's Christmas Service.



Here are three of the little angels from the Children's Christmas Service in December 2009.

I hope they weren't too tired in the morning after "heralding" all night.



Judy, Kathy, Murray and Susan put some finishing touches on the Christmas tree in the sanctuary on December 13, 2009.

Afterwards we headed out with the Pastor and choir to join in carolling with our seniors and shut ins.



The beautifully decorated tree sits resplendent in the Sanctuary. It is decorated with many varieties of golden crosses, white mini lights and is topped with a golden crown.




On November 29, 2009 the Board of Fellowship presented a Seniors' Christmas dinner with turkey and all the trimmings.

It looks to me like these seniors are getting younger every year. For example- Bea and Marie on the left.



Victoria and Olivia did an excellent dance routine for entertainment at the dinner. Katie with her mom and brother Josh showed off their guitar talents.

The choir attempted to solicit new members as well. Looks like we snagged Harold.




Here's some more of these "so called" seniors. That's Myrtle and Irene in the foreground.

I think somebody's pretty lax in checking their IDs.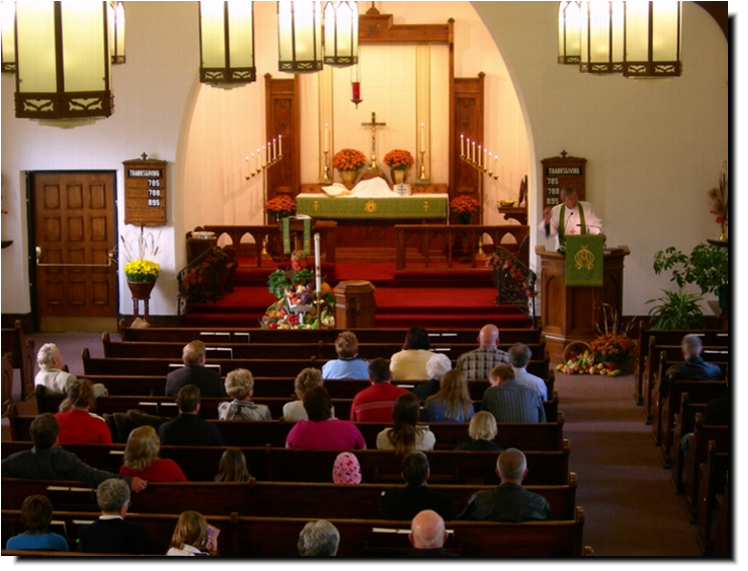 Pastor Teuscher preaches a sermon on Thanksgiving Sunday 2009.


Photo Archive Gallery 1


Photo Archive Gallery 2


Photo Archive Gallery 3








---

St. Peter's Evangelical Lutheran Church
115 Cambria St
Stratford, Ontario, N5A 1H2


---
Copyright (c) R.McEwen 2008